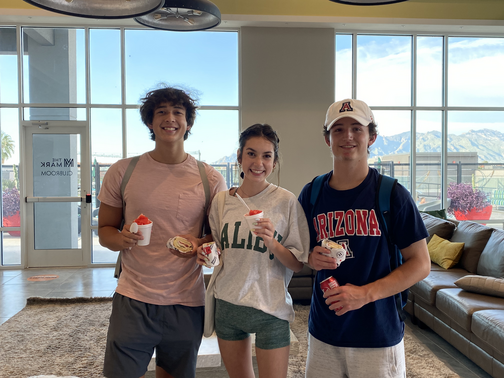 ---
The University of Arizona school year has just begun and we're incredibly excited to have a new, amazing group of residents. To kick off a great year at The Mark Tucson, we planned a calendar jam-packed with a variety of residence life events to give our residents and their friends the opportunity to meet and mingle with their neighbors and to enjoy spending time in our luxury amenities.
Week 1 - Return Of The Mark
For our first resident event, we held Return of the Mark in our Clubhouse and Rooftop Pool Area. This was our first event of the fall 2021 semester and our welcome home party for all of our residents. We kicked off the new school year with a bang! Our resident's enjoyed succulent subs from Jimmy John's, and cooled off with a tasty treat from Eegee's. We had about 60 sub sandwiches and a tub of frozen fruit treats that were gone in about an hour! Our residents had a great time getting to meet their roommates, and their neighbors.
Week 2 - Totes To Go
Week two of our events, we held Totes to Go in our Main Lobby. At Totes to Go, our residents received a free tote bag when they came into pick up their packages or groceries. This event was very successful with the help of our partnership with Go Puff. We had about 60 residents show up and we gave away 60 tote bags and go puff promo codes in the first 30 minutes! Our residents still mention to us every day how much they use their tote bags around the community and on campus.
Week 3 - Bear Down Friday
During our third week of resident events, we held Bear Down Friday in our clubhouse. We celebrated the first game of The University of Arizona Football season with our residents and National College Colors Day. Bear Down Friday is a great tradition held every Friday during the football season. We gave out free tailgate gear to our residents at our clubhouse before they went to the Pep Rally held on University Boulevard. It was our most successful event and we ran out of tailgate gear within 30 minutes!
Week 4 - Taco Paint Night
For our fourth resident event, we held TACO PAINT NIGHT in our CLUBHOUSE. Our residents and staff members got to know each other while painting a cactus cutout, and enjoying tacos from one of our favorite local Mexican Restaurants, Illegal Pete's! This event was an absolute hit, 12 people got to paint and we already planned to do future events with the painter we partnered with called Tipsy Picassos!
Week 5 - TPD Crime Free
Week five, we held TPD Crime Free Event in our clubhouse. During this event we had an officer from The Tucson Police department educate our residents how to be aware of their surroundings, and how to prevent theft from happening at home and in vehicles. We gave away free pizza to all residents that attended, and 12 residents stayed for the presentation!
Week 6 - Cooking With James
Our very last week of our 6 in 6 events, we held Cooking with James in our lobby. Our residents absolutely loved our culinary and interactive event. During the event, residents would pick up their meal kits to cook a college and budget friendly meal. One of our Community Ambassadors and our beloved Chef James, taught our residents how to make Cheesy Fettuccini Alfredo Pasta on our IGTV Channel. Our event caught so much buzz, we ran out of 30 meal kits within an hour, and our residents already to do another Cooking With James Event.
Our team has had such an amazing time getting to meet our residents over the past 6 weeks. Here at The Mark Tucson, we strive to create the best experience at The University of Arizona off campus housing and hosting a variety of awesome resident events is just one part of achieving that. Keep an eye out for more events to come, we're looking forward to a great year!